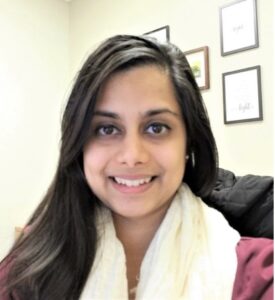 Specialty Areas  (Young Children, Teens & Adults)
Anxiety (Including Medical Anxiety & Phobias)
ADHD
Depression
Racial Identity Development
Acculturative Stress
Kosha Shah, Psy.D., Licensed Psychology Associate obtained her doctorate in Clinical Psychology from The Chicago School of Professional Psychology, and her Master of Science from Loyola University. Dr. Shah's education and work experience included working with youth and adults in inpatient and outpatient settings, conducting individual and group therapy and assessment. She has worked at the Virginia Treatment Center for Children (VTCC) and Mt. Washington Pediatric Hospital. During her pre-doctoral internship at VTCC, she provided consultation-liaison services at the Children's Hospital of Richmond in the PICU and in the adult Trauma and Burn unit. She was previously a school-based therapist in Baltimore, collaborating with teachers, psychiatrists, and treatment teams.
Additionally, Dr. Shah has interests in working with youth and adults to enhance immigrant mental well-being, racial identity development, intergenerational conflict, and acculturative stress.
My Approach:                                                                                                                               I am passionate about using a multicultural lens, providing culturally sensitive treatments, while advocating for clients and supporting their parents. My approach is tailored uniquely to the client's presentation and goals. My practice is collaborative, especially when working with youth and parents! Using an integrative approach, I primarily use cognitive-behavioral therapy, and incorporate play-based and psychodynamic techniques as appropriate.
As a dance teaching assistant at the Nrityalaya School of Indian Classical Odissi Dance, I have engaged in productions to merge my two passions of mental health and dance to destigmatize mental health and spread awareness. I welcome and embrace your creativity in the therapy space!
Individuals are equipped with strengths, and I enjoy helping clients elevate their inner resiliency.
Life is sometimes a scary rollercoaster, with unexpected twists and drops. I would be honored to ride next to you.