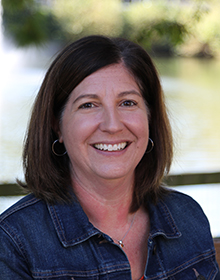 Specialty Area            (Kids 12+, Teens, Adults & Families)
Anxiety (including panic disorders)

Depression

Autism Spectrum

Non-suicidal Self-Injury (NSSI) and other self-destructive behaviors

Life Transitions (college adjustment, divorce, parenting)

Family Conflict & Parenting skills

Grief and Loss

Gender and Sexuality (LGBTQIA+ affirming)
Krista Dhruv, LCSW-C, has more than 20 years of experience as a clinician working with children, adolescents, adults and families in outpatient and educational settings. Krista's clinical background includes work with a diverse population of clients and familiarity with a wide range of mental health issues.  She maintains a general practice with several areas of treatment specialization including anxiety, depression, gender and sexual identity development, self-destructive behaviors, social pragmatics, and life transitions.  Krista has also been a school counselor at an independent day school for 20 years which influences her appreciation for the role that schools and parents play in the healthy development of young people.
Krista also has a wealth of experience providing educational workshops to parent and school communities and organizations.  In addition, she offers educational consultation and advocacy services for her clients.
My Approach to Therapy                                                                                                        My treatment approach is collaborative, strength-based and empowerment focused.  I work to provide all clients with a safe, nurturing and supportive environment in which we identify goals together and use a combination of heart and science to address the challenges that stand in your way.  I rely on an integrative approach to treatment that includes the most up-to-date research and proven effective modalities such as Cognitive Behavioral Therapy (CBT), Motivational Interviewing (MI), Dialectical Behavioral Therapy (DBT), and Mindfulness-Based Stress Reduction (MSBR) in our work together.
License & Certifications                                                                                                        Licensed LCSW-C                                                                                                             Cognitive Behavioral Therapy: Beck Institute                                                          Dialectical Behavioral Therapy (DBT)                                                                              Trauma 1 Certification: Ferentz Institute                                                                          Board Certified Clinical Supervisor