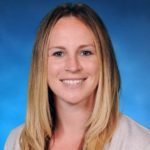 Specialty Areas         (Kids Under 12)
ADHD
Coping Skills
Anxiety
Depression
Behavior Management
Social Skills
Briana Quinlan, LCSW-C, is a clinical social worker who has been treating children and adolescents in the Baltimore area for the past eight years. Briana specializes in the treatment of underlying social, emotional, behavioral, and social interaction skill deficits commonly found in children struggling with issues related to executive functioning and/or sensory processing.
Briana utilizes a variety of approaches in working with clients. She is particularly skilled at hands-on strategies which teach children and their families concrete approaches that can be generalized from the therapy session to other settings. Briana has training in and utilizes evidence-based treatments such as cognitive behavioral therapy and mindfulness-based interventions. Additionally, Briana often incorporates approaches from Michelle Garcia Winner's Social Thinking Curriculum. Briana continues to work at the Baltimore Lab School in the Charles Village neighborhood of Baltimore.
My Approach to Therapy
In working with children who have a range of backgrounds and presentations, I believe that establishing and building on relationships with children, as well as their parents, in a team approach is the cornerstone for any child's success in therapy. I believe in using a wide variety of therapeutic approaches to promote self-awareness, self-compassion, confidence, and social skill development. My work focuses on helping children learn to navigate and manage unwanted emotions, such as anxiety or depression, in order to help them achieve their full potential across settings. I also strongly believe that every child inherently possesses many strengths. Tapping into and fostering opportunities for growth in those strengths is paramount to successful therapeutic work as well as confidence building for children.
I look forward to meeting you.
License:
Licensed LCSW-C